IMPORTANT NOTICE!


Jim Peterson Achievement Award Elections


The Jim Peterson Awards voting is open until,
Midnight EDT Eastern Daylight Time (GMT -5), May 31st.
To vote, click HERE.
Navigation
Event Calendar
Member Birthdays
Forum Threads
Latest Articles
Login
Not a member yet?
Click here
to register.
Forgotten your password?
Request a new one
here
.
Users Online
Guests Online: 8
Members Online: 0
Total Members: 96
Newest Member:
digdugnate
Shoutbox
You must login to post a message.
02/14/2017 15:48
New Themes have been added to the OLUG for members only. Check them out.
12/31/2016 17:43
Happy New Year all
06/23/2016 13:08
Hi Mike, welcome
. There are still lots of TI99 users out there
06/22/2016 15:37
Just wanted to say 'I'm glad I found you!' Pulled out my TI and have started to play with it again. I forgot how much fun it was. Wish there were more people out there still using it!
04/23/2016 08:23
Hello my fellow ti99ers, have a great weekend
Member Poll
What is your age?
70 or more
43% [3 Votes]
60-69
14% [1 Vote]
50-59
0% [0 Votes]
40-49
43% [3 Votes]
30-39
0% [0 Votes]
20-29
0% [0 Votes]
Less than 20
0% [0 Votes]
Votes: 7
You must login to vote.
Started: 01/18/2017
In Remembrance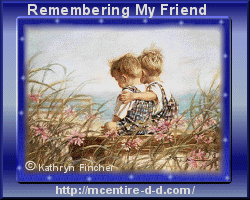 This page is dedicated to all TI99ers who have died and gone to the big TI-99/4A User Group in the sky.

May their spirits be with here us on this earth;
May we never forget them;
May we not forget anything they have done for the TI99er Community.
Let us always be inspired and the fire will never die within us.

Search By First Letter of Last Name using the following Table

Please note that the date fields listed with question marks (??/??/??) need the dates.
If you know of more comments about a person, please forward the information to the webmaster.
| Name | Date of Death | Comments |
| --- | --- | --- |
| Name starting with "A" | | |
| Oliver Harold Archer | ??/??/?? | Front Range 99er Computer Club. |
| Name starting with "B" | | |
| Paolo Bagnaresi | 08/22/2013 | After a long illness. He had fantastic skills on the TI99. The TI99ers Community is truly sad at the loss of this great coder, and true gentleman. Paolo was Inducted to the TI99ers Hall of Fame on May 2, 2008. Click HERE to view Paolo's Hall of Fame Biography. |
| Shawn Baron | ??/??/?? | At age 15 - Red Baron Software and the SouthWest 99ers User Group. |
| Norberto R. Bettinelli | ??/??/?? | Texas Instruments 99/4A Grupo Recalcitrante y Empedernido de Sobrevivientes (TIGRES). |
| Meredith Beyers | ??/??/?? | Southern California Computer Group of San Diego. |
| Dick Beery | ??/??/?? | CONNI Users' Group |
| John Birdwell | ??/??/?? | Author of Disk Utilities and more. Had John Birdwell Award named after him. Also a member of the Hall of Fame. Click HERE to view John's Hall of Fame Biography. |
| Doyle Bynum | ??/??/?? | co-founder of Softmail and Texas Peripherals. |
| Frank Bunzel | ??/??/?? | Sheboygan Area 99ers User Group, Sheboygan, WI. |
| Francis (Frank) J. Bubenik, Jr. | ??/??/?? | The Long Island Users Group |
| F. Jay Buckley | ??/??/?? | Vice President and Librarian of the Grand Rapids 99ers. |
| Howard Brain | ??/??/?? | Akron TI-99 User's Group and co-founder of the Carnation City 99ers UG. |
| Robert Buehler | ??/??/?? | K-Town 99ers User Group |
| John H. Bull | 12/06/2002 | K'Town 99ers User Group and author of Contact Bridge. |
| Name starting with "C" | | |
| Robert P. Caine | ??/??/?? | Rocky Mountain 99ers User Group Newsletter Editor. |
| Jim Cavanaugh | 12/14/2008 | Western New York Ninety Niner member and SYSOP of the "AM/CAN Friends BBS". In recent years the user group held their monthly meetings in Jim's basement. |
| Ellen Carver | 08/23/2006 | Wife of John H. Carver. |
| Floyd Clayton | 09/09/1993 | Chicago TI Users Group |
| Dave Connery | 08/04/2009 | A long time TI'er and an avid collector of TI and Geneve gear. He was a fixture at the Chicago TI Faire, where he sold hard drives and other computer equipment. |
| Joyce Corker | 01/25/2003 | Past President Boston Computer Society TI-99/4A User Group and author of the TI-WRITER TIPS book (July, 1986). |
| Jack Burton Cunningham | 12/18/2004 | San Antonio, TX, contributed an improvement to a Tetris program published in 1989. |
| Name starting with "D" | | |
| Denis A. Dann | ??/??/?? | Long time member and Treasurer of Milwaukee Area User Group |
| F. Rodgers deCordova | 10/18/2008 | Owner of Joy Electronics in Dallas, Texas from 1981until 2005. From 1985-2005, he sold and supported the 99/4a to literally, the world. He was also a frequent visitor to the North Dallas TI User Group. |
| William Dowlding | ??/??/?? | Milwaukee Area Users Group, avid X-BASIC Programmer and author of TI BAR CODE for mailing. |
| William (Bill) Duncan | 09/03/1995 | North East Texas 99ers |
| Name starting with "E" | | |
| Henry "Hank" Ellermann | ??/??/1995 | Past President of the Chicago TI Users Group. He ran the Chicago Connection BBS for many years. Hank hosted after meeting get together in his basement. Many hardware and software ideas were inspired at those meetings. |
| Name starting with "F" | | |
| Anthony N. Falco | 01/28/1996 | Massachusetts Users of the Ninety-Nine Computers and Hobbyists (MUNCH) and author of some TI-99 Educational software in xBasic. |
| Alan Fischer | ??/??/?? | Former President, Newsletter Editor and co-Founder, Sheboygan Area 99ers User Group, Sheboygan, WI |
| J. Stephen Foster, Jr. | ??/??/?? | Programmer of music for the TI |
| Tom Freeman | 07/22/2013 | After a long illness. He was a very active member of the Los Angeles TI99ers UG and authour of DiskAssembler. He will be missed by one and all. |
| John Ford | 01/??/2013 | at age 88 after complications from a fall. He used a Geneve to run his business. He was an avid TI99ers who loved using the Hidden Reef BBS. He was member of the Queens Borough 99'ers UG. |
| Name starting with "G" | | |
| Bernard (Bernie) Gallagher | ??/??/?? | First President of the TI Chips User Group. |
| Peter Gleed | ??/??/?? | Coordinator for the TI-99/4A Users Group - Melbourne Inc., Newsletter Editor (Melbourne Times), an organizer of the group's TI fair and served as auctioneer during that event. |
| Patrick Graham | ??/??/?? | North Bay, Ontario, Users Group Newsletter Editor |
| Jacques Groslouis | 09/30/14 | Creator and Administrator of the TI99ers Hall of Fame. Posthumously inducted into the TI99ers Hall of Fame on December 13, 2014. Awarded the Jim Peterson Lifetime Achievement Award in 2012. Click HERE to view his Hall of Fame Biography. |
| John Guion | 09/08/1989 | Upgraded Rs232/disk controller eprom/trident SXB eproms. Also known for his work on software used with P-Gram systems. |
| Name starting with "H" | | |
| John Hale | ??/??/?? | SouthWest 99ers User Group, Tucson, AZ |
| Bruce Harrison | 11/10/2007 | of Hyattsville, Maryland - A great asset to the TI99er Community and a member of the TI99ers Hall of Fame. Bruce was a MICROpendium columnist specializing in Assembly Language. Also a member of the Hall of Fame. Click HERE to view his Hall of Fame Biography. |
| William Hay | 07/04/1994 | Jefferson City, MO, a long-time TI and Geneve user. |
| Ollie Hegravebert | ??/??/?? | Published the Mussle Shoals UG newsletter for many years. |
| Mike Heuser | 02/13/2009 | Mike was the former chairman of the German group TI99er Workshop Rheinland. He organized the first European TI Treffen in Cologne (11/29/1986) and was very important for the cooperation of the European TI User Groups. |
| Gene Hitz | 11/14/2009 | The last active founding member of the Milwaukee TI User Group; longtime editor of the MAUG World Wide 99er Newsletter. Click HERE to view his Hall of Fame Biography. |
| Harrison (Harry) Hoffman | 11/03/2012 | was an original member of the TI-Chips and Northcoast 99ers user groups of greater Cleveland, Ohio, the long time editor of the Greater Cleveland TI-99/4A UGs newsletter and a wonderful friend to all TI99ers. |
| Nina Mae Hoffman | ??/??/?? | Was the TI-Chips last president as well as an ardent TI99er. She passed away some time ago before her husband, Harrison (Harry) Hoffman. |
| Chuck Humphries | ??/??/?? | Former President of Navarone |
| Name starting with "I" | | |
| Lester Israel | ??/??/1999 | member of TI-Chips U.G., First Honorary Lifetime Membership. |
| Name starting with "J" | | |
| Frank Jenkins | ??/??/2000 | member of Solon User Group and Northcoast 99ers U.G. Treasurer. |
| Name starting with "K" | | |
| Robert Kagy | ??/??/1992 | member of Northcoast 99ers |
| Ray Kazmer | 09/09/1997 | He was known for his graphics and animation programs and contributed a number of articles and User Notes to MICROpendium. |
| Leslie "Les" Kee | 09/05/1997 | long time TI-Chips user group member, last TI-Chips software librarian and prolific software demonstrator. |
| Mi Kyung Kim | 12/08/1993 | Designed the Myarc Swan - See OLUG's Geneve 9640 Encylopedia for additional information. |
| Lew King | ??/??/?? | WAITING FOR MORE IMFORMATION |
| Lee Kitchens | 05/12/2003 | Manager of Engineering, Texas Instruments Consumer Operation, 1979 - 1983. He was the Keynote speaker at the Fest West '98 which was held in Lubbock, TX. Inducted into the TI99ers Hall of Fame on March 7, 2004. Click HERE to view his Hall of Fame Biography. |
| Bill Knecht | ??/??/?? | TI-HUG (Houston Texas Users Group) |
| Anthony "Tony" Knerr | 09/22/15 | Died at home at age 57. He was a member of his TI-99/4a Computer Club since 1985 |
| Charles Koryta | ??/??/2000 | member of TI Chips U.G. |
| Harriet Kradenpoth | ??/??/?? | SouthWest 99ers User Group, Tucson, AZ - You will be missed. |
| Stan Krajewski | ??/??/?? | West Palm Beach 99ers, also wrote the MICROreviews column for MICROpendium. He took over the column begun by Harry Brashear in August 1991. His final column appeared in the May 1993 issue. |
| Gerhard "Barney" Kugel | ??/??/?? | Chicago TI User Group |
| Name starting with "L" | | |
| Art Lillegraven | ??/??/?? | LA 99ers User Group. |
| Linwood "Lin" Shaw | 03/16/ 2007 | Treasurer for the TI-Chips User Group of Greater Cleveland, Ohio for nearly a quarter of a century; Lin was the longest serving officer for the TI-Chips. |
| Name starting with "M" | | |
| Donald T. MacClellan | 08/06/2002 | Former president and newsletter editor the Bluegrass Users group in Lexington, KY. He was a chemical engineer by trade with a master's degree in Theology. In addition to his degrees, he was a veteran of the Korean Conflict with the U.S. Army, past president of the Lexington Jaycees, and member of ASHRAE. |
| Maryann Malciut | ??/??/1998 | Member of TI Chips U.G. and Wife of Vonn Malcuit. |
| Matt Matthews | 05/??/2012 | He will be missed. He was a very active member of hte SouthWest TI99ers UG in Tucson. His contributions are too numberous to list. The TI99ers UG in the Sky have just gained a valuable member! |
| Ida McCargar | 08/08/1992 | SouthWest 99ers User Group, Tucson, AZ |
| Edward McCullough | 12/03/2014 | At age 93 Ed passed away of heart failure. As a member of the SouthWest 99ers User Group, Tucson, AZ., Ed contributed in every facit of the SW99UG and was also a integral part of organizing the Fest West '98 - Lubbock TI Faire. In his spare time, Ed was an avid bowler and former employee of the American Bowling Congress. Before that, he served as a U.S. Air Force pilot. |
| Constance McCullough | 06/15/1922 - 3/2/2010 | Wife of Ed McCullough (SouthWest 99ers UG, Tucson, AZ) was a very good friend of all members of the SW99UG. Connie will be missed. |
| Clarence "Bud" Mills | 10/17/1935 - 09/15/2016 | Bud, who was inducted into the TI99ers Hall of Fame on April 19, 2010 was a very important member of the TI99er Community. One would be hard pressed to find a vendor more committed to customer service than Bud Mills. During his frequent visits to the TI computer gatherings, he could sometimes be spotted sitting at his table with a soldering iron making on-the-spot repairs or upgrades. He was a member of the Northwest Ohio based New Horizon TI-99/4A Home Computer Users Group. Bud received the Jim Peterson Achievement Award during its 1996 inaugural year and holds the distinction of being the only two time recipient of the John Birdwell Award. Click HERE to view his Hall of Fame Biography. |
| John McKechnie | 05/28/1992 | member of the BC 99ers and author of hardware articles appearing in a number of publications, including MICROpendium was found murdered in the cab he drove for a living. |
| Judith Ann Rusher Muir | ??/??/?? | Mid-Mon Valley Computer Club (PA) and West Penn 99ers |
| John Murphy | 10/??/2009 | A longtime member of the TI User Group of the United Kingdom and the Dorset TI User Group. John was from Wales. |
| Harold Mayo | 11/07/2007 | of Sperry, OK. Long time TI99er and operator/sysop of the Orphanage BBS, one of the last TI-99/4A BBS's in the world. He was a member of the Tulsa TI99ers and the Chicago Area TI99ers User group. He will be missed. |
| James R. Miller | 2/27/2013 | Born on 6/10/1938. He was one of the last active members of the Toledo based OHMITI club. Was very knowledgeable about the TI. Sorry to see you go! |
| Name starting with "N" | | |
| Joe Nichols | ??/??/?? | Washington DC 99ers and 99/4 Home Computer Users Group dies on November 28, 1981. |
| J. Lynn Nidiffer | ??/??/?? | Dallas TI Home Computer Group |
| Daniel Norling | ??/??/?? | LA 99ers User Group |
| Name starting with "P" | | |
| Jim Peterson | ??/??/?? | Lima (OH) Users Group and Author of The Tigercub. Jim Peterson Achievement Award named for him. Also a member of the Hall of Fame. Click HERE to view his Hall of Fame Biography. |
| Jerry Petrulak | 03/01/1992 | a TI supporter and long time participant on the PUG BBS died last night of a heart attack. Jerry's zany humor and controversial messages were always done with a lot of fun in mind. He will be missed. (Logged off PUG BBS March 1, 1992). |
| Name starting with "R" | | |
| Earl Raguse | 07/21/1997 | Southern California Computer Group of San Diego and User Group of Orange County |
| Bruce Rodenkirch | ??/??/?? | TI-Chips U.G. and Northcoast 99ers U.G., Software Librarian and Tutor. |
| Name starting with "S" | | |
| William W. Saner | ??/??/?? | President of Bradenton User Group |
| Robert Satorius | 05/09/2004 | Milwaukee Area Users Group. |
| Herbert Schlesinger | ??/??/?? | Great Lakes User Group. |
| Grant B. Schmalgemeier | ??/??/?? | A founder of the Chicago Area 99ers User Group |
| Lester Schultz | ??/??/?? | Sheboygan Area 99ers User Group, Sheboygan, WI |
| George Steffen | 09/29/1987 | LA 99ers User Group, converted Beanstalk Adventure for Tex-Comp |
| Linwood "Lin" Shaw | 03/16/2007 | Treasurer for the TI-Chips User Group of Greater Cleveland, Ohio for nearly a quarter of a century; Lin was the longest serving officer for the TI-Chips. |
| J. Steven Sims | 10/16/13 | Born June 23, 1953, he was the President for Life of the TI-99 Hoosiers Users Group. |
| Dr. Guy Steffen-Romano | 08/15/1989 | International User Group |
| Eunice B. Spooner | 04/17/2016 | Passed away at age 77. Founder and President of the Oakland (ME) User Group. Helped students of the Atwood Elementary School with their computer skills for ten years. |
| Lucille Stockdale | ??/??/1994 | TI-Chips U.G., Wife of Dinny Stockdale. |
| Name starting with "T" | | |
| W. Leonard Taffs | 12/05/2013 | He was a very active member of the SouthWest 99ers UG. and a prolific writer of programming tips and tricks in the SW99UG newsletter which were enjoyed by TI99ers everywhere. He was also a gifted musician. He will be missed. |
| John Taylor | 09/27/2008 | Of Fort Erie, Canada. A long time and an avid member of the Western New York Ninety Niner's User Group. |
| Monna Thomason | ??/??/1992 | TI Chips U.G. Wife of Virgil Thomason. |
| Virgil Thomason | ??/??/1997 | TI Chips U.G. Co-President. |
| Barry Traver | 11/19/2016 | A legendary figure in the TI99ers community and a prolific writer, his articles and programs about and for the TI-99/4A have been published in MICROpendium, Computer Shopper, 99'er Home Computer Magazine, The Smart Programmer, Super 99 Monthly, and many TI-99/4A User Group newsletters. He has done many more things too numerous to be listed here. Barry will be missed by all TI99ers! Click HERE to view his Hall of Fame Biography. |
| Joseph Turk | 04/07/1995 | Long time member of the Sheboygan Area 99ers User Group. |
| Name starting with "U" | | |
| James Uzzell | 10/15/2005 | Member of the Houston Users Group, did business as DDI Software, an ABASIC Project Supporter, two time Jim Peterson Achievement Award nominee and a prolific Geneve 9640 software programmer. Hall of Fame member. Click HERE to view his Hall of Fame Biography. |
| Name starting with "V" | | |
| Benedek von Takach Dukai | ??/??/?? | TISHUG in Australia, also a programmer and writer for MICROpendium. |
| Phil Van Nordstrand | 11/25/2012 | An avid TI-99'er and member of the Houston UG and Johnson Space Center UG for many years before health issues took over. |
| George William von Seth | 10/28/1991 | President of the Guilford, North Carolina 99ers |
| Name starting with "W" | | |
| Ron G. Walters | ??/??/?? | builder of the Memex for the Geneve along with the GenMod. |
| W. Travis Watford | 11/29/2011 | Author of T-shell, Max-rle and co-authored Paradigm BBS software (with Mike Kimble and Tom Wills). Passed away at age 52. |
| Thomas Weithofer | 12/??/84 | PILOT 99 author dies at age 22 from Cystic Fibrosis. |
| Horst Wiese | ??/??/2008 | the chairman of the former TI Club Wiesbaden, passed away in October/November of 2008. He did a lot for TI99ers in Europe. |
| Howard (Howie) Winkler | ??/??/1992 | member of Northcoast 99ers U.G. Also build Keyboards and ramdisks. |
| Beverly Wollenchak | ??/??/1995 | member of TI-Chips U.G. |
| Michael I. Wucinski | ??/??/?? | Milwaukee Area Users Group |
| Name starting with "Y" | | |
| Benjamin F. Yates, Junior | 8/20/1932 - 9/19/2007 | Barney, Georgia, Father of Ben Yates III. |
| Name starting with "Z" | | |
| Tony Zlotorzynski | 04/14/2011 | Former Chicago TI User Group newsletter editor and programming contest chairman for a number of years. "We will miss him greatly." --Hal Shanafeld (CTIUG President). |
Ratings